All our Mac & Cheese is unfortunately sold out like woah.
Our new and improved (yeah, we dared to dream!) and new flavours will be here really soon. Not just online, but like, everywhere, ASAP!
In a realm where costs are always climbin' 

our Mac & Cheese

 

will actually be COMING DOWN IN PRICE

 as we increase production and share the benefits with all our amazing customers!
Hang tight, we've got something cookin'!
A 3 Pack of our delicious Smokin Chipotle Mac & Cheese - Yes 3 boxes of Lord of the Fries Vegan Smokin Chipotle Goodness!.
Although not well known here on Earth, Chipotle Mac & Cheese is the 'go-to' Mac & Cheese in most parts of the Multiverse.
We think it's so good we created our own plant-based version – LOTF Smokin Chipotle Mac & Cheese - for sale here in our little corner of said Multiverse so our loyal customers don't have to miss out anymore.
Its deliciously good in your mouth,  better for the planet and an intergalactic flavour experience we invite you to enjoy.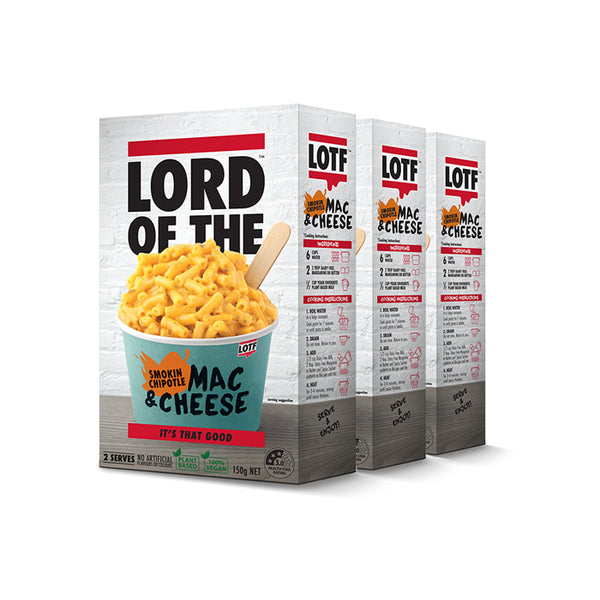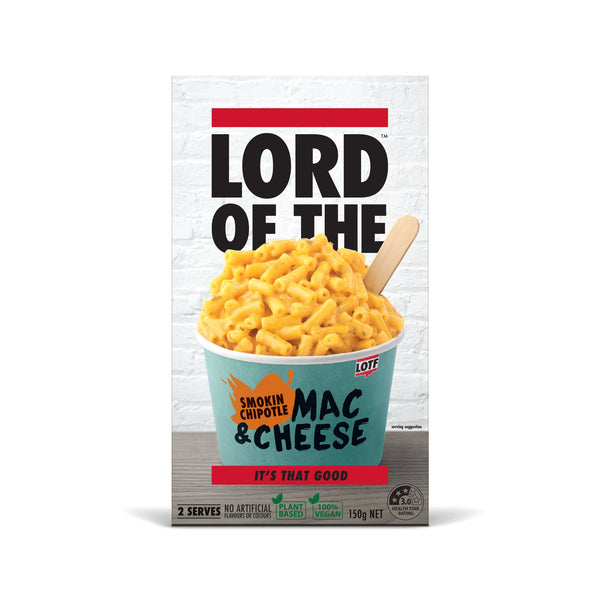 DIRECTIONS FOR USE
Cooking Instructions:
1. Boil water in a large saucepan. Cook Pasta for 7 minutes or until pasta is tender.
2. Drain. Do not rinse. Return to pan.
3. Add 1/2 cup Dairy Free Milk, 2 tablespoon Dairy Free Margarine or Butter and Sauce Sachet contents to the pan and stir.
4. Heat for 3-4 minutes, stirring until sauce thickens. Serve and enjoy!
NUTRITIONAL INFO
Servings per package: 2
Serving size: 75g (197g when prepared as directed*)
INGREDIENTS & ALLERGENS
Ingredients:
Macaroni Pasta (73%) (Durum Wheat Semolina), Dairy Free Cheese Flavoured Sauce Powder (27%), [Maltodextrin, Maize Starch, Tapioca Starch, Natural Flavour, Sugar, Onion Powder, Smoke Flavour, Hydrolysed Vegetable Protein, Salt, Chipotle, Food Acid (261), Paprika, Colour (Annatto), Chive, Parsley].

Allergens:
This product contains wheat & soy
This product may contain traces of peanuts