3 Pack Sampler with 1 of each flavour
All our Mac & Cheese is unfortunately sold out like woah.
Our new and improved (yeah, we dared to dream!) and new flavours will be here really soon. Not just online, but like, everywhere, ASAP!
In a realm where costs are always climbin' 

our Mac & Cheese

will actually be COMING DOWN IN PRICE

 as we increase production and share the benefits with all our amazing customers!
Hang tight, we've got something cookin'!
A Mixed Carton with 1 of each of our great flavours:
1 x Classic Cheddar;
1 x FKN Hot; &
1 x Smokin' Chipotle. 
A total of 3 Boxes of the most delicious Mac & Cheese you could ever dream about.
If you are one of those people who has problems deciding what to choose, which flavour (or flavours) you want and are too afraid to commit to just one or two flavours, then you are the reason we created the Mixed Sampler.
It's Classic, Smokin and FKN great all at the same time! Put together just for you!
It's also a whole lot more work for us – but you're worth it!  
Limited Sampler Packs available.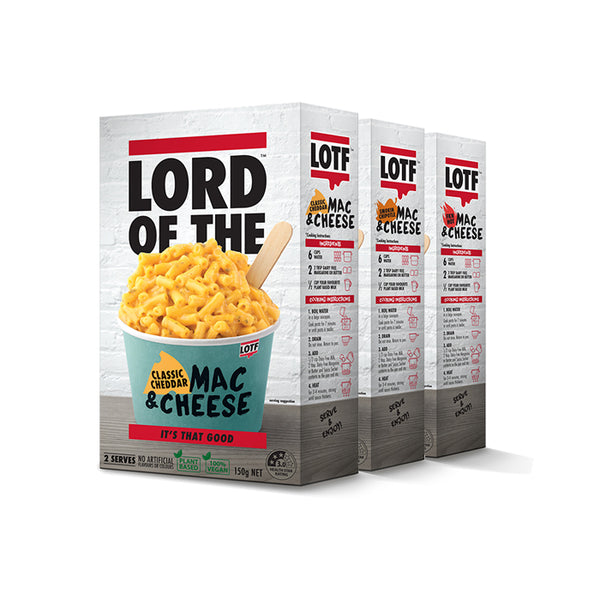 DIRECTIONS FOR USE
Cooking Instructions:
1. Boil water in a large saucepan. Cook Pasta for 7 minutes or until pasta is tender.
2. Drain. Do not rinse. Return to pan.
3. Add 1/2 cup Dairy Free Milk, 2 tablespoon Dairy Free Margarine or Butter and Sauce Sachet contents to the pan and stir.
4. Heat for 3-4 minutes, stirring until sauce thickens. Serve and enjoy!
NUTRITIONAL INFO
Servings per package: 2
Serving size: 75g (197g when prepared as directed*)
INGREDIENTS & ALLERGENS
Classic Cheddar Ingredients:
Macaroni Pasta (73%) (Durum Wheat Semolina), Dairy Free Cheese Flavoured Sauce Powder (27%), [Maltodextrin, Maize Starch, Tapioca Starch, Natural Flavour, Sugar, Onion Powder, Hydrolysed Vegetable Protein, Salt, Food Acid (261), Colour (Annatto), Chives, Paprika, Parsley].

FKN Hot Ingredients:
Macaroni Pasta (73%) (Durum Wheat Semolina), Dairy Free Cheese Flavoured Sauce Powder (27%), [Maltodextrin, Maize Starch, Tapioca Starch, Natural Flavour, Sugar, Onion Powder, Hydrolysed Vegetable Protein, Salt, Chilli Powder, Food Acid (261), Black Pepper, Cayenne Pepper, Colour (Annatto), Chive, Paprika, Parsley].

Smokin Chipotle Ingredients:
Macaroni Pasta (73%) (Durum Wheat Semolina), Dairy Free Cheese Flavoured Sauce Powder (27%), [Maltodextrin, Maize Starch, Tapioca Starch, Natural Flavour, Sugar, Onion Powder, Smoke Flavour, Hydrolysed Vegetable Protein, Salt, Chipotle, Food Acid (261), Paprika, Colour (Annatto), Chive, Parsley].

Allergens:
This product contains wheat & soy. This product may contain traces of peanuts