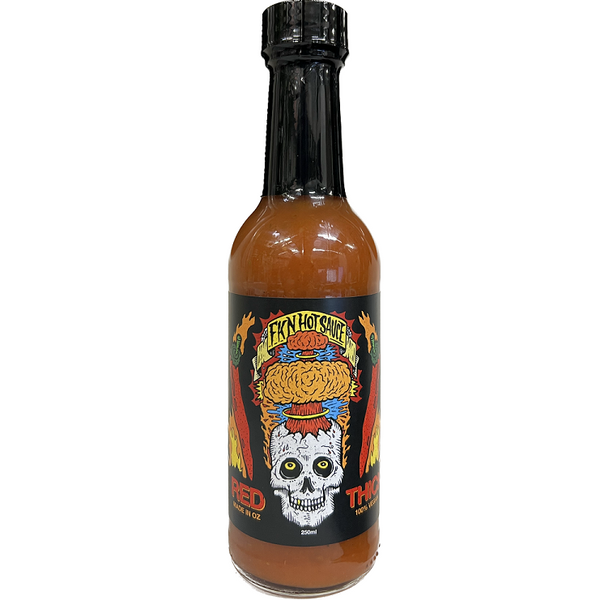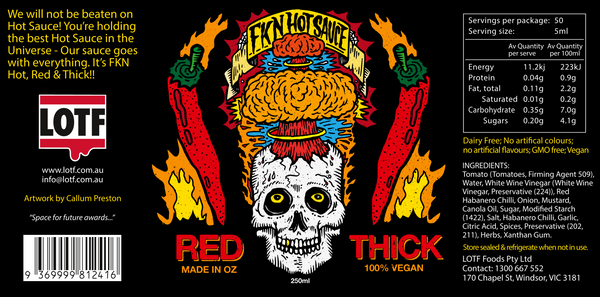 We will not be beaten on

HOT SAUCE!
You are holding (or will soon be holding) the best Hot Sauce in the Universe!
Our sauce goes with everything!
It's FKN HOT*, Red & Thick.
So, you're a fan of hot sauce and spicy food - you are going to love this hot sauce! 
It's packed with flavour and has the right amount of heat to give your dishes that extra kick, and of course completely plant based.
 A recipe some say as old as the Lord himself. 
Worked on for years and now ready for release to the world.
Great as a sauce with your favourite foods and as the basis of a cooking sauce for so many different spicy meals. It's delicious!
About 7 out of 10 hot, but 10 out of 10 taste!
* This sauce is NOT super, super-hot - we reckon about 7 out of 10 - but don't doubt for a second that it is not hot! 
As our first hot sauce in the FKN HOT sauce range - Red & Thick - was made for anyone who enjoys hot sauce! You are going to love it - we do!
But don't panic if you love really, really hot sauce! While you are enjoying our first beautiful hot creation, we are diligently working away on new varieties for the FKN Hot sauce range - including hotter (yep really FKN hot) and also a milder (not so FKN hot) - so my scalp doesn't always burn during product development - not to mention other parts of my body). 


Breaking News....
We are so excited about the launch of our first retail sauce that every bottle purchased automatically gives you an entry into the draw for a FKN HOT skateboard deck, with the incredible artwork by Melbourne Artist Mr. Callum Preston - buy 2 bottles and get 2 entries!  There are 10 decks to give away!